Adoption Case: 5,085 Cases
*We will introduce examples of made-to-order hoses as below.
Adoption Examples
Example 1: Tube for Large-Format Ink-Jet Printers
Multi-Layer and Laminated Tubing
An inner layer is made of fluorine or polyolefin
High Gas Barrier and Water Vapor Barrier Products
A Wide Variety of Size Available: I.D. 1mm – 8mm
Add colors, transparency and Multi-Line up to 8 Lines
*For more information on a tubing for ink-jet printers, please refer to "Products for Ink-Jet Printers."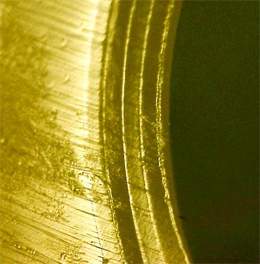 Cross-section of Multi-Layer Tubing
Multi-layer tubings are processed up to 8 lines by heat seal. No glues are used.
Slit processing and layer-cut processing are possible. You do not have to use a cableveyor or tubing clips to protect each tubing.
Example 3: Conductive Paint Hoses
Use conductive resins for anti-static prevention
Select a wide variety of materials such as fluorine, olefin, nylon, urethane and PVC.
Suitable for flammable fluids such as gasoline, paints and thinner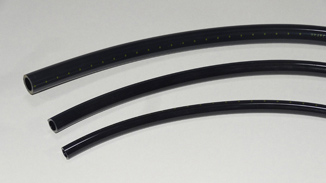 Example 4: Water Filter and Water Purifier Hose
Sanitary Inner Layer added to Silver-Based Antimicrobial Agent
Low Elution Material which does not affect the water taste
Flexible, Odor-free Non-PVC Materials
Possible to add colors tailored to the water filter body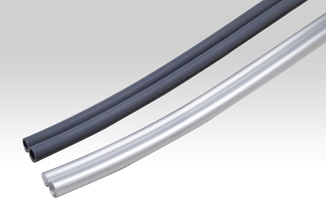 Example 5: Bending Tube and Coil Tube Processing
Possible to manufacture bending urethane tube such as L-shape and U-shape
Possible to cut the cost of intermediate fittings
Coil tube processing is stretchable and possible to save the space.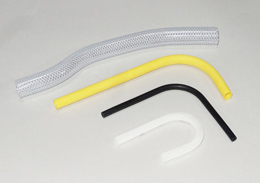 Urethane Tube Bending Processing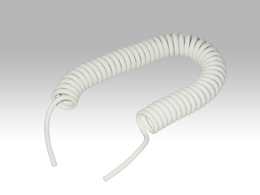 Coil Processing Tube
Example 6: High-Pressure Air Hose
High-pressure air hose stands up to 3.0MPa (30 Bar) and shows a property of smoothness. Also, we can manufacture flexible, high-pressure air hose with the original color and fittings for high-pressure air hose.
Our high-pressure air hose is a high quality hose, which has passed the endurance test conducted by air tool and compressor manufacturers.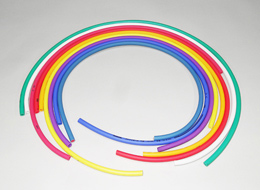 High-Pressure Air Hose
Example 7: Warming/Dew Condensation Prevention Hose (Foam Hose)
Coating PVC or Non-PVC materials onto the outer layer of hose and tubing
Outer color is gray or black.
I.D. 9mm – I.D. 32mm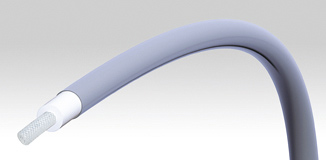 Foam Hose
Example 8: Anti-Spatter Air Hose
Coating incombustible resin onto hose and tubing
For dealing with sparks at the welding and sheet metal plants
Possible to manufacture hoses with HB-94 to V-0 materials (Based on UL regulations)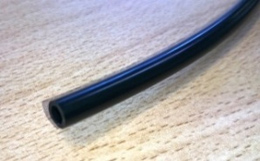 Anti-Spatter Air Hose
Example 9: Carbonated Gas Barrier Hose
High Gas Barrier Hose which does not get the carbonate flat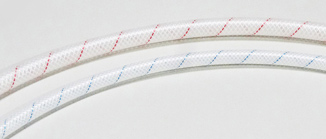 Vending Hose
Example 10: Tubing for Analytical, Medical and Dental Equipments
Multi-Layer fluorine tubing to keep chlorine density Keeping the level of chlorine density prevents the bacteria to grow, leading to high sanitation.
Flexible Tubing: High Flexibility and easy to use
Soft polyurethane tube also allows doctors to use easily.
We have supplied to endoscope and blood analyzer devices.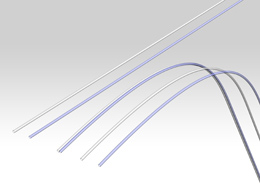 Soft Tube for Dental Equipment
Made-To-Order Tube/Hose
For more information on actual examples of made-to-order products, please click below.