Corporate Profile
COMPANY NAME: HAKKO CORPORATION
ADDRESS:
HEAD OFFICE: Unity Forum 5F, 42-18, 1-Chome Itabashi-Ku, Tokyo, 173-0004 JAPAN
TEL: +81-3-3963-5381 FAX: +81-3-3961-4400
OSAKA OFFICE: Akatsuki Building 7F, 13-45, Toyotsu-cho, Suita-shi, Osaka 564-0051, JAPAN
TEL: +81-6-6310-6880 FAX: +81-3-3961-4400
SAITAMA FACTORY: 591-2 Fujikubo, Miyoshimachi, Iruma-Gun, Saitama 354-0041, JAPAN
TEL: +81-49-258-1701 FAX: +81-49-259-1372
AKITA FACTORY: 46-1 Gassan, Masuda-Aza, Masuda-Machi, Yokoteshi, Akita 019-0701, JAPAN
TEL: +81-182-45-4485 FAX: +81-182-45-5346
URL: https://hakko-eightron.com/
Company Email Address: hakko@eightron.co.jp
Establishment Date: April 1, 1960
Paid-In Capital: 50,000,000 Japanese Yen (As of May 2022)
President and Representative Director: Tadahiro Abe
Number of Employees: 105 (As of May 2022)
Main Bank: MUFG Bank, Ltd. Shin-Itabashi Branch & Mizuho Bank, Itabashi Branch
Business: Designing and Manufacturing Hoses and Fittings
Industrial Hoses (for Machine Tools, Plastic Molding Machine or Facilities)
Food Grade Hoses (for Soft Drink, Alcohol, Pure Water and Other Foods)
Chemical Hoses (for Paints, Solvents, Ink, Acid, Alkali, Cosmetics, Other Chemicals)
High-Functional Hoses (for Electronics, Semiconductor, High Precision Machine and Clean Energy)
Three Features
1. HAKKO offers various kinds of made-to-order hoses in small quantities and has supplied our products to a wide range of industries.
Suitable Hose
Made-to-Order Hoses in Small Quantities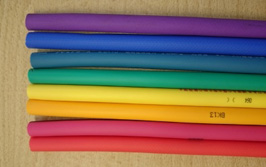 For Various Applications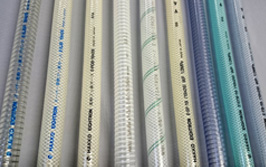 2. HAKKO is a pioneer of multi-layer structure hoses using co-extrusion molding technology.
Multi-Layer Tubing Image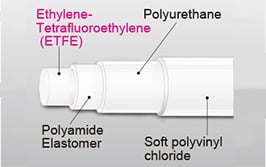 Cross-Section of Multi-Layer Tubing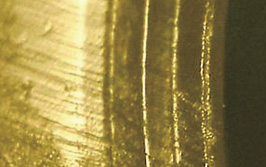 Co-Extrusion Molding Technology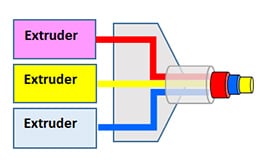 3. HAKKO also designs the fittings and makes additional processing such as multi-line tubing, bending tubing, coil tubing and inserting the hose/tubing with fittings. HAKKO can guarantee the matching between the hose and the fittings.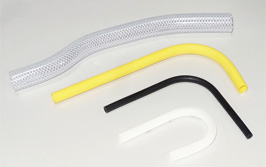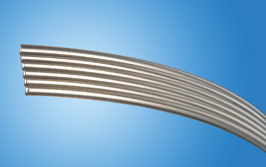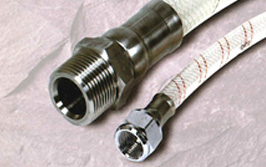 Corporate History
 April 1959
Our founder, Kousaku Abe, started the business by manufacturing and selling PVC resin hoses.
 April 1960
"HAKKO Vinyl Limited Company" was established.
 September 1963
Our first factory was set up in Oyaguchi, Itabashi.
 May 1968
Our factory moved to Saitama.
 May 1970
Paid Capital increased to 5,000,000 yen.
 June 1973
Paid Capital increased to 10,000,000 yen.
 April 1975
Start Manufacturing Urethane Hoses
 June 1982
Paid Capital increased to 50,000,000 yen.
June 1984
Mutsumi Corporation was established.
July 1984
Our Corporate Name changed to "HAKKO CORPORATION."
August 1985
Successfully manufacture and sell multi-layer hoses.
November 1991
Akita Factory was set up.
October 2000
Flexible Fluorine (PVDF) Resin Hose [E-PD and E-PDB] received the patent.
July 2005
Our head office moved to the current location.
October 2006
Osaka sales office was set up.
November 2008
Flexible Fluorine (ETFE) Resin SUS Spring Wire Hose received the good-quality award from Itabashi Ward.
June 2009
Mutsumi Corporation was transferred to "HAKKO CORPORATION."
April 2010
Flexible Fluorine (ETFE) Resin SUS Spring Wire Hose received the awards from "Evaluating New Products in the Market."
March 2013
Our Head Office, Saitama Factory and Akita Factory received the ISO 9001 and 14001 Certificates.
September 2013
Solvent Transfer Hose [E-SV] received the patent.
November 2016
Flexible Fluorine (ETFE) Resin Hose Series (Dissipative Type) received the best-quality award of 2016 from Itabashi Ward.
November 2017
Flexible Fluorine (ETFE) Resin Hose Series (Dissipative Type) received "Tokyo Metropolitan Technical Special Award" at Worldwide Competition in 2017 (sponsored by Tokyo Metropolitan Government).
April 2018
Flexible Fluorine (ETFE) Resin Hose Series (Dissipative Type) received the 30th Medium and Small-Sized
Enterprises Encouragement New Innovative Technologies and Products award.
May 2019
Saitama Factory (Office Building) Renovation Completed.
April 2020
Akita Factory was approved as an Invitation Company of Akita Prefecture
April 2021
Akita Factory Warehouse Expansion Completed
ISO Certificate