If you are considering about made-to-order products with small quantity, please consult HAKKO CORPOARTION. HAKKO CORPORATION has specialized in designing and manufacturing industrial tubes and hoses for more than 50 years. Based on customers' needs, we can design, quote, and manufacture made-to-order tubes and hoses at our factory located in Japan. Thus, we can deliver products within a short period of time.
Why is HAKKO CORPORATION strong in made-to-order tubes and hoses?
Can manufacture a made-to-order tube/hose with various kinds and small quantity
Few problems have occurred due to the mismatch at the designing stage
-> We are attentively listening to customers' needs and offering the best product for your application. Thus, customers are highly satisfied with the product.
After delivering products, we conduct a follow-up interview. If any issue occurs, we will improve the product and seek for the customers' satisfaction.
POINT 1: Various Kinds of Products with Small Quantity
From a single-layer tube to a multi-layer hose, HAKKO CORPORATION can manufacture hose and tube of various materials with small production lots. If you usually ask hose manufacturers for custom-made hose, you will have to place an order of at least 5,000m to 10,000m. Our Minimum Order Quantity (MOQ) depends on the hose size, but if the inner diameter is from 1mm to 19mm, our MOQ is usually 1,000m. Materials we can manufacture include PVC, urethane, olefin, styrene, nylon, fluorine, and so on. Since there are more than 100 types of molds for custom-made products, you are less likely to pay for the mold costs. Thus, you can lower the initial costs of producing made-to-order tube/hose.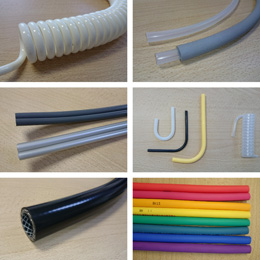 POINT 2: Eliminate Mismatches and Customers' Complaints
We will thoroughly listen to the present problems and customer requests, and then we propose the best product for customers.
We will make a quotation based on the past concerns and the know-how of the hose manufacturing in the years.
If there are no similar applications in the past, or if the customer requirements are not fixed yet, we will conduct performance evaluation tests in the trial manufacture step. Then, we verify that the hose is suitable for your application. We also operate under a quality control system in line with ISO 9001.
We will conduct a product inspection in accordance with your request.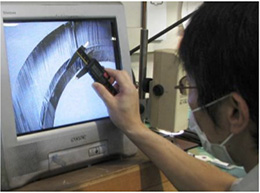 Product Inspection of Multi-Layer Tubing
POINT 3: Continue to Improve the Product and Seek for Customer Satisfaction
HAKKO CORPORATION keeps working even after delivering the hose to the customer. After the first production lot arrives at your customer, we will listen to the voice at the site and make sure that there is no problem using the hose. We sincerely accept the customer voices, and strive to further improve our products with our customers and pursue customer satisfaction. Product improvement is not limited to the product itself. If the customer requests the changes of packing specifications and the standard length, we are happy to listen to this request as well.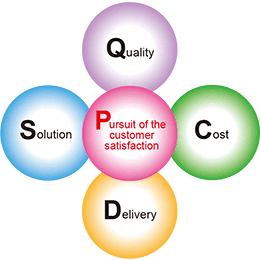 We will consider customer convenience and contribute to society through better products.
Flow Chart of How to Order Made-to-Order Tube/Hose
Check Customer Request

A sales representative will listen to the customer's requirements. We will also inform you of the materials and structures and mass production lots we can handle.
If you are interested in made-to-order hose/tube, please fill out the following form.

Design Stage at HAKKO CORPORATION

Once you fill out the form, our sales representative gets in touch with you within one week.
(However, if your information is not enough, we will get back to you as soon as possible.)

Introduce Made-to-Order Products

We will offer a made-to-order hose/tube suitable for your applications. At this stage, we will explain product compositions, expected costs, expected delivery time, test reports, and concerns if any.

Trial Manufacturing Phase

Once you decide to move on to the trial-manufacturing phase, we will manufacture quantity you request. At this stage, we can manufacture from a few meters to a few hundred meters. You do not purchase a few thousands meters at this stage. Then, after delivering a trial-product, HAKKO CORPORATION and you will conduct a performance test.

Mass Manufacturing Phase

After satisfying the test results of the trial-manufacturing phase and the price, we will move on to the mass-manufacturing phase. Before we move on to this stage, we will ask you to sign a delivery specification.

Feedback Phase

After delivering a first lot, we will also ask you to send any feedback from your customers.
Made-To-Order Tube/Hose
* For more information on actual examples of made-to-order products, please click below.