Tube for Ink-Jet Printers: Ink-Supply Tube

When you select a tube for ink-jet printers, a tube will be a key item. This is because inks will be transported through the tube, and the quality of the tube greatly affects the inks and printing outputs. Also, due to the improving quality of wide-format, roll-to-roll, textile, and ceramic tile ink-jet printers these days, there are so many kinds of inks (such as solvent-based inks, eco-solvent inks, latex inks, water-based inks, UV inks, UV curable inks, degassed inks, and oil-based inks) for various printing applications. These days, ink-jet technologies have been applied to 3D printing, which also requires the tube.
In order to meet these various applications and inks, a tube has to have a high solvent resistance, high oxygen barrier property, low moisture permeability, and flexibility. If a tube has a problem of oxygen barrier property and moisture permeability, oxygen and moisture will mix into the ink.
Thus, the quality of ink will change, leading to clogging into the printing heads or generating a bubble of the inks. As a result, ink-jet ejection failure will occur, badly affecting the printing quality. This problem also occurs when you do not run an inkjet printer for long periods of time. HAKKO CORPORATION offers various high-quality products for your applications, which meet various customers' needs.
Leaflet Request
If you would like to download a product leaflet for ink-jet printers, please download the leaflet above.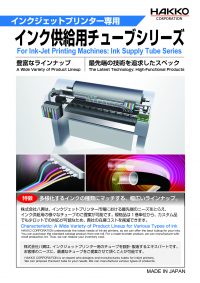 Our products are highly recommended for textile printers, wide-format ink-jet printers, large-format ink-jet printers, cutting plotters, roll-to-roll printers, ceramics tile printing, 3D printers and printheads.
Other than transporting inks through tube, we can offer an economical tube for waste-inks (for non-critical parts). Also, based on your request, we can manufacture a made-to-order product such as low VOC tubes and pump tube.
Also, we can offer multi-line tubing with/without layer-cutting and slit-cutting. For more information on this, please click the following link: Example: Industrial Ink-Jet Printers (Multi-Line Tubing) Also, if you would like to refer to the technical data of our products, please click the following link: Technical Data.