Specification: Applicable Hose Size
Model Number

I.D.×O.D. (mm)

Fitting Model

Working Pressure (MPa)

Temperature Range

20℃

80℃

℃

E-SJ-2×4

E-SJ-2×4-BK

E-SJ-2×4-CBU

E-PD-2×4

2×4

E-FTS-2×4-R1/8

0~0.6

0~0.2

-20~80

E-SJ-3×5

E-SJ-3×5-BK

E-SJ-3×5-CBU

3×5

E-FTS-3×5-R1/4

E-SJ-4×6

E-SJ-4×6-BK

E-SJ-4×6-CBU

E-PD-4×6

4×6

E-FTS-4×6-R1/4

E-SJ-5×7-BK

5×7

E-FTS-5×7-R1/4

0~0.5

E-SJ-6×8

E-SJ-6×8-BK

E-SJ-6×8-CBU

E-PD-6×8

6×8

E-FTS-6×8-R1/4

0~0.4

E-SJ-6×9

E-SJ-6×9-CBU

E-SJD-6×9

E-PD-6×9

6×9

E-FTS-6×9-R1/4

0~0.6

E-SJ-8×12

E-SJ-8×12-BK

E-SJ-8×12-CBU

E-SJD-8×12

E-PD-8×12

8×12

E-FTS-8×12-R3/8

70℃

E-SJV-6×9

6×9

E-FTS-6×9-R1/4

0~0.3

0~0.15

0~70

E-SJV-8×12

8×12

E-FTS-8×12-R3/8

E-KYT-2×4

2×4

E-FTS-2×4-R1/8

0~0.2

0~0.05

0~70

E-KYT-3×5

3×5

E-FTS-3×5-R1/4

E-KYT-4×6

4×6

E-FTS-4×6-R1/4

E-KYT-5×7

5×7

E-FTS-5×7-R1/4

0~0.15

E-KYT-6×8

6×8

E-FTS-6×8-R1/4

E-KYT-6×9

6×9

E-FTS-6×9-R1/4

0~0.2

E-KYT-8×12

8×12

E-FTS-8×12-R3/8

0~0.15
How to Assemble Fittings for Multi-Layer Tubing
(A) Cut the tubing in a perpendicular way. Pass a nut through the tubing.

(B) Insert the nipple to the tubing. Make sure to insert to the end. There should be no gap between tubing and fittings.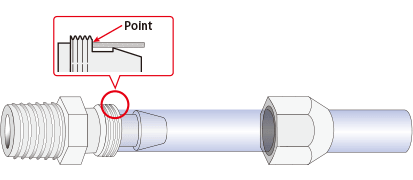 (C) Tighten the nut by wrench until there is no gap between the fitting body and the fitting nut.