(A) For Food/Beverage/Alcohol Hose
For transporting foods and beverages, we recommend that you use HAKKO Food Grade Hose Series. It is not a wise decision to select a hose only with flexibility, temperature range, the pressure and the food sanitation law. Information on the Revised Food Sanitation Law (Effective as of June 1, 2020) is available here.
Followings are frequently asked questions for food grade hoses.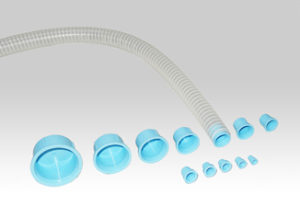 A hose cap, made of PE, prevents foreign matter (such as dirt) contamination at both ends of the hose.
Frequently Asked Questions:
Does the resin odor of the hose move to fluid (Food and beverages)?
For soft PVC, does the plasticizer affect fluid?
Is it hard to get dirt on the inside of the hose, such as colored dirt of the fluid?
Does the hose deteriorate with chemical cleaning and hot water cleaning?
Is there enough transparency to visually check the hose after cleaning?
Tips:
When you select a hose for transporting food, beverage and alcohol, we strongly recommend you to choose non-PVC (plasticizer-free) food grade hose. Plasticizer, which is contained in PVC hose, will elute to the fluid, which badly affects the fluid. Moreover, if you look for a higher grade of tubing with better washability and less odor, we can offer a barrier tubing as a made-to-order product.
(B) For Cosmetics (Flagrance)
When you transport cosmetics, the hose should be one with high sanitation, low odor, and low elution.
This is because cosmetics directly touch skin. Also, some cosmetics such as lotion have a high viscosity property, so hoses require cleanness, high chemical resistance, and transparency (to check whether or not any stains are left). In the past, PVC hoses were widely used for transporting cosmetics since they were soft and cost-saving, but these days, customers choose a hose which keeps high purity of the fluid.
Adoption Example
Current Problem: We are concerned about the transfer of resin odor to cosmetics.
Situations: Company A, which has been manufacturing cosmetics, receives complaints from the end user. So, Company A investigated the cause of smell in the manufacturing process.
As a result of investigation, the PVC hose, which was used for transporting cosmetics, might be the cause of smell. Then, Company A decided to consult with HAKKO CORPORATION.
HAKKO Solutions:
KY SUNFOODS HOSE [Model Number: E-KYS]
Flexible Fluorine (ETFE) Resin SUS Spring Wire Hose [Model Number: E-SJSP]
We explain that PVC hoses contain low molecular weight components such as plasticizer and stabilizer. Those components react with alcohol and chlorine-based chemicals, giving out the odor. Thus, we recommend a non-PVC hose for transporting cosmetics. KY SUNFOODS HOSE [Model Number: E-KYS] and Flexible Fluorine (ETFE) Resin SUS Spring Wire Hose [Model Number: E-SJSP] do not contain any plasticizer. The levels of elution are very low and the odor to the fluid is very limited. Company A is satisfied with these two products.