Push-to-Connect Fittings for Air Hose Series [Model Number: E-RSS/E-RSP]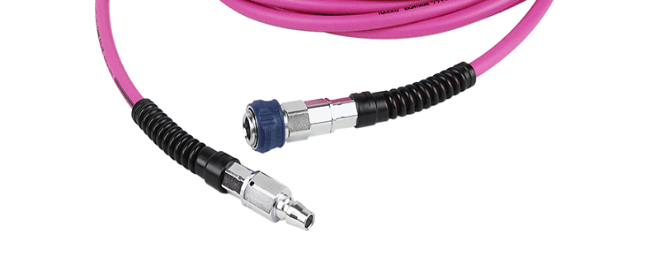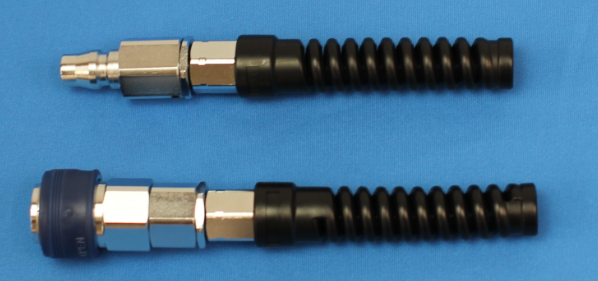 HAKKO | Rotary & Lock Function and Purge Function, Safe, Made-in-Japan One-Touch Coupling | Bend Restrictor
Applications
Fittings for Automobile / Motorcycle Maintenance (including Tire 1 and Tire 2)
Fittings for Air Compressor, Woodwork and Factory Facilities
Functions
Characteristics
Original Fittings…By using our original fittings for E-NF and E-SNF, you can avoid mismatches which are caused by incorrect choices of hose and fittings.
Lock Function…After installing E-RSS, if you turn left of the socket part, E-RSS is locked. Lock function prevents the detachment from socket to plug.
Purge Plug…E-RSP has purge function (the residual pressure in the hose is evacuated). When you disconnect the plug, you can eliminate the discomfort of "Burn!" and the reaction against hose joint.
Rotary Function…Both E-RSS and E-RSP has rotary functions at the connection parts, so they can prevent the twisting of the hose.
RoHS2…E-RSS/E-RSP is compliant with RoHS2 requirements (directive 2011/65/EU:RoHS2). (RoHS 2 Compliant products mean that they do not contain or below the threshold of 10 substances.) Certificate is available on request.
[Lock Socket]
Lock Function prevents the unintentional detachment.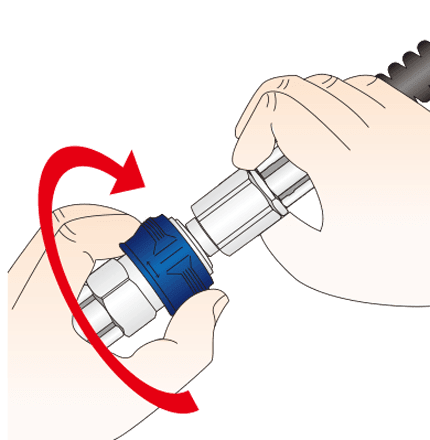 How to Install the Fittings

Applicable Hose
(A) NEW FLEX Air Hose [Model Number: E-NF]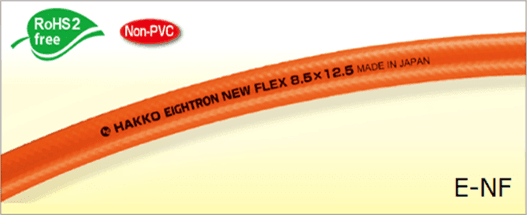 (B) Soft NEW FLEX Air Hose [Model Number: E-SNF]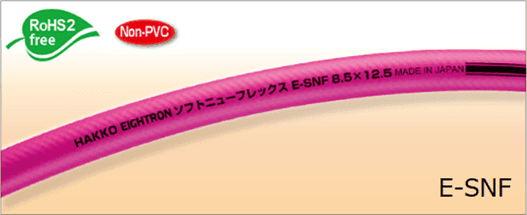 Frequently Asked Question
Question: Can we install E-RSS/E-RSP with Air Hose by ourselves?
Answer: Yes, you can install E-RSS/E-RSP Fittings with Air Hose at site. If this is troublesome for you, we can install E-RSS/E-RSP fittings. In this case, please use the model number either E-SNF-RC or E-NF-RC.
Product Standard
Type
Image
Model
Number
Hose Size
Material
Product Weight
I.D. $\times$ O.D.(mm)
g / piece
Socket


E-RSS-65P
6.5$\times$10
Steel Chrome plaring
132
E-RSS-85P
8.5$\times$12.5
146
Plug
E-RSP-65P
6.5$\times$10
88
E-RSP-85P
8.5$\times$12.5
102
Leaflet Request
For more information on our Product Standard of E-RSS/E-RSP, please click "Product Leaflet Download" above.
HAKKO Original Fittings for E-RSS/E-RSP