EIGHTNIPPLE B Fittings [Model Number: E-FTB]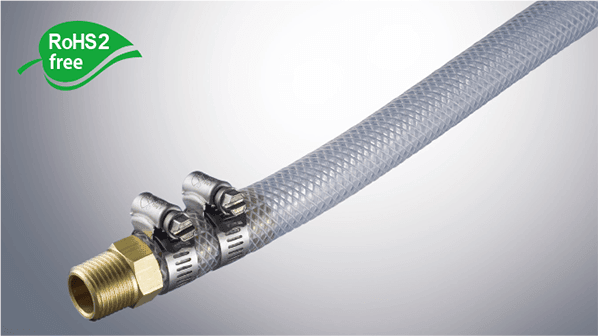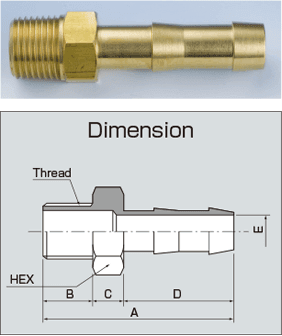 HAKKO Original Barb Type Fittings | Barbed Fittings | E-FTB is a barb fitting, made of Brass (Cadmium less than 75ppm), which is suitable for pressure-proof hose.
Applications
Fittings for Machine Tools, Molding Machines, Plant Equipment
Manufacturing Equipment of Chemicals, Waste Oil, Waste Fluids and Organic Solvents
Functions
Characteristics
Original Fittings…EIGHTNIPPLE B Fittings are exclusively designed for HAKKO Hose.
Longer Nipple Shape…Nipple parts are longer than the conventional ones, so they can be tightened securely with two hose clamps. By tightening reinforced yarns securely, the lifespan of the hose becomes longer. Please see this video clip for comparing the pressure-resistance between EIGHTNIPPLE and conventional fittings.
RoHS2…E-FTB is compliant with RoHS2 requirements (Directive: (EU) 2015/863). (RoHS 2 Compliant means that E-FTB does not contain RoHS 2 10 restricted substances or it does not exceed the upper threshold of RoHS 2 10 restricted substances.) Certificate is available on request.
Non-Use of UV-328…E-FTB does not contain UV-328. Certificate is available on request.
Product Standard

Leaflet Request
For more information on our Product Standard of E-FTB, please click "Product Leaflet Download" above.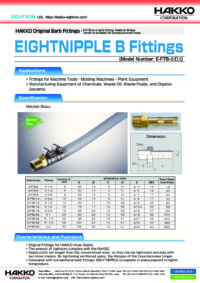 Specification: Applicable Hose Size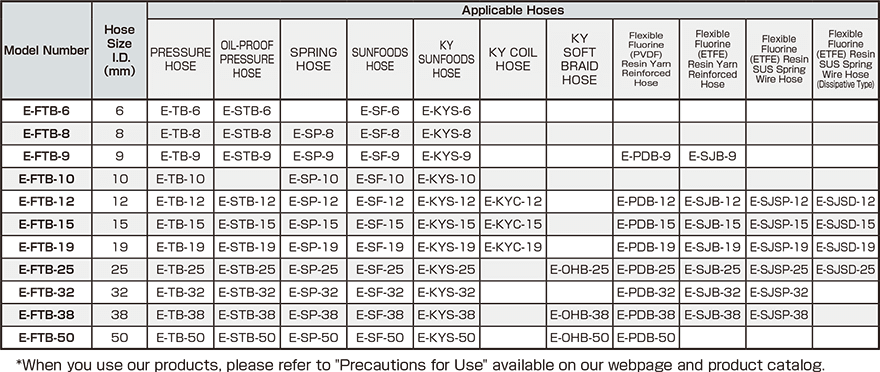 Technical Information
(A) Features of EIGHTNIPPLE Fittings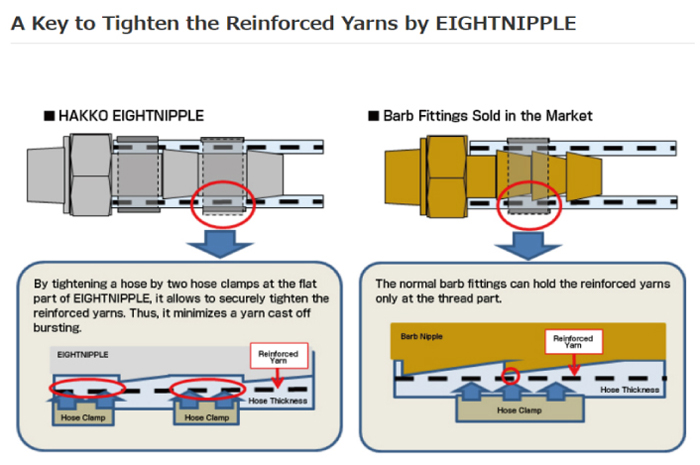 *What are the advantages of tightening reinforced yarns firmly?
1. The lifetime of hose will be extended, since it is less likely to have a yarn cast-off bursting.
2. Under the conditions of high temperature or/and high pressure, hose is less likely to be swollen.
3. Performances of hose (such as working pressure and working temperature) are maximized.
※A yarn cast-off bursting occurs when the pressure to tighten the reinforced yarns is lower than the pressure to swell the hose due to the inner pressure. As a result, the reinforced yarns are slided from the end of the hose to the center of the hose, and then the end of the hose bursts due to the inner pressure.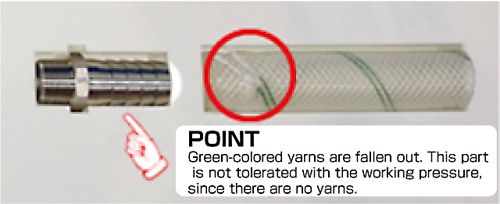 (B) Burst Test Data for Each Fitting

Leaflet Request
If you would like to download a brochure of Fittings' Leaflet, please download the brochure.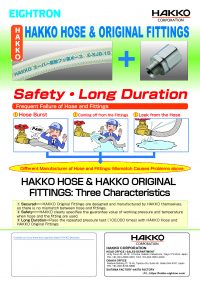 How to Assemble EIGHTNIPPLE Fittings
(A) Cut the hose in a perpendicular way. Pass two hose clmaps through the hose.

(B) Insert the nipple to the hose. Make sure to insert to the end. There should be no gap between hose and fittings.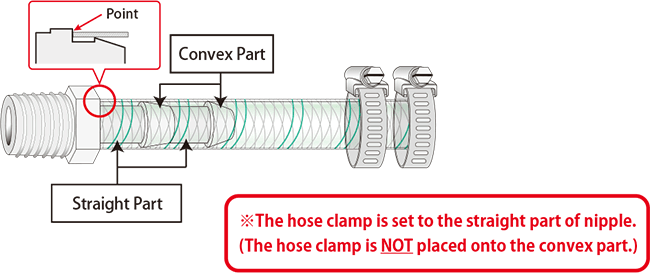 (C) Tighten the two hose clamps by torque. Hose clamp manufacturer specifies the tightening value. Please follow this value. Pressure performance of the hose might vary depending on its manufacturer and part number.

*For using conditions such as combustibles and combustible gas, please ground the hose clamps.
Without grounding, the hose clamps might become insulators, accumulating and discharging static electricity. This results in causing a fire to combustibles, leading to explosion.
Frequently Asked Questions
Question: Is E-FTB equipped with hose clamps?
Answer: No.
Question: Do you sell hose clamps?
Answer: No, we do not sell hose clamps. We kindly ask you to use hose clamps sold in the market.
Question: Do we have to use two hose clamps?
Answer: We always recommend you to use two hose clamps to securely fasten the hose.
HAKKO Original Fittings for E-FTB
Product Name
Materials, Characteristics
EIGHTNIPPLE B Fittings [Model Number: E-FTB]]

Material: BSBM (Brass)
Compliant with RoHS2 requirement
Two-stage flat nipple structure which maximizes hose pressure
Our Original Barb Nipple Fittings
Made-in-Japan Fittings