Protective Spring Guards [Model Number: E-HSL]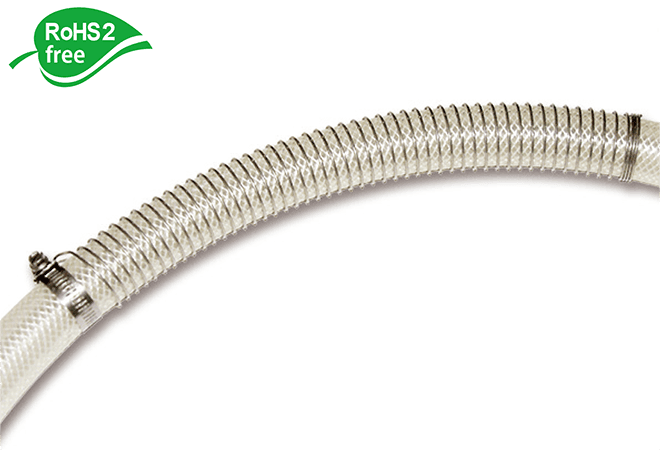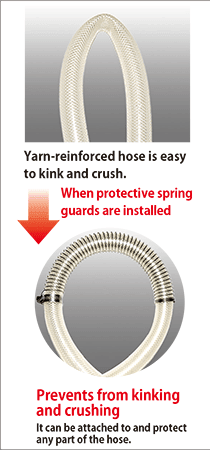 HAKKO HOSE ORIGINAL ACCESSORY / Prevents from Kinking and Crushing
Applications
To reinforce the hose in a case where the temperature of air or fluid Is high and the hose becomes softened.
In case the hose Is dropped from a height, the spring guards can protect the hose from crushing.
To protect the hose from kinking when the hose Is bended sharply Ina small space.
To protect the surface of the hose from scraping against other components.
To prevent the hose from bending when you handle the hose from side to side (ex. for cleaning purpose).
Functions
Characteristics
Flat band is attached to one side of the spring.
E-HSL is made of rust-proof stainless steel.
E-HSL makes fluid flow through the hose at ease by protecting from kinking.
E-HSL can protect the part where the hose needs reinforcement.
If the hose is prevented from bending, the lifespan of the hose becomes longer.
E-HSL and HAKKO hose are sold separately. Thus, you can purchase E-HSL whenever you need.

Product Standard

Material: 304 Stainless Use Steel (SUS 304)
Leaflet Request
For more information on our Product Standard of E-HSL, please click "Product Leaflet Download" above.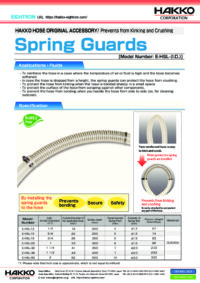 Specification: Applicable Hose Size