Tube/Hose for Semiconductor Industry

In the process of semiconductor and precision machine manufacturing, a resin hose is used for transporting chemicals when cleaning liquid is transported. HAKKO Flexible Fluorine (ETFE) Resin Hose Series can be used for small-space piping, thanks to their high chemical resistance and flexibility. Also, in the manufacturing process of Flat Panel Display (FPD), various kinds of chemicals (such as solvents, iodine compounds, glass paste and UV curable adhesives) are often used. HAKKO Flexible Fluorine (ETFE) Resin Hose Series have been widely used in these applications (Data Center, Inspection Device, Electrostatic Chuck and Cutting Device).
In some cases, customers in the semiconductor industry request a de-gas tubing or hose when they transfer photoresist solutions, developer solutions, rinse solutions and etching solutions. Removing the air bubble from these solutions leads to the improvement of the product quality and extraction rate. HAKKO can also offer a de-gas tubing or hose as a made-to-order product.  
Adoption Examples:
(A) Polishing Process
This process is to polish the surface of silicone wafer. In polishing, Fluorine tube is used to apply slurry-based chemicals.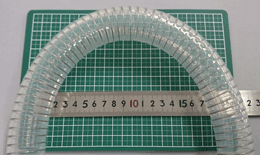 E-SJSP-25: Minimum Bend Radius: 100mm
(B) Resist Coating to Etching Process
When a circuit pattern on a wafer is produced, special photosensitive materials are used. This process is divided into four stages: (a) photoresist coating, (b) exposure, (c) development and (d) etching. Photoresist coating is the application of resist to wafer. The exposure process is photosensitive resist with light passed along circuit pattern. The development stage is to remove the photosensitive resist with special liquid (developer). The etching process is to remove the oxide film before resist coating. A fluorine tube is usually used for getting rid of the oxide film (Resist Coating Pre-Treatment). In the resist process, polyvinyl alcohol, cinnamic acid chloride and naphthoquinone azide are frequently used chemicals. In the development process, aqueous solution of tetramethylammonium hydroxide, xylene and acetate are frequently used chemicals. In the etching process, phosphpric acide (aluminum), ferric chloride (copper), hydrofluoric acid and acetone are frequently used chemicals.
(C) Cleaning Process
In order to remove any contaminations (such as wastes and metal ions) on the surface of wafer, fluids such as high-purity acid, alkali-based chemicals (such as ammonia, hydrogen peroxide, hydrochloric acid and hydrogen peroxide) and pure water are used. A fluorine tube is used for transporting these fluids.
Problem-Solving:
Current Problem: Teflon hose is hard to bend.
Situations: Company A, which has been designing flat panel display, transports solvents and iodine compounds. However, Teflon hose with an inner diameter of 25mm is hard to bend. Company A decided to use a corrugated teflon hose, but the fluid accumulation inside a hose has become a problem.
HAKKO Solution: Flexible Fluorine (ETFE) Resin SUS Spring Wire Hose [E-SJSP]
HAKKO CORPORATION recommends E-SJSP, which has a high chemical resistance. Also, due to the stainless steel wire inside the hose, E-SJSP is less likely to be bent. Company A has decided to adopt E-SJSP.
*We can offer anti-static fluorine tubing, polyurethane tubing and cleanroom packing option. If you are interested in our Made-to-Order product, please fill out the following inquiry form.